Creating and Using a Protocol
The TEMPEST software enables you to create and load dispense protocols. Using dispense protocols can help you work faster and more efficiently, particularly if you frequently use the same hardware setup or plate design. Protocols essentially tie together a reagent configuration file and a dispense list (see Creating and Using Reagent Configurations and Dispense List for more information). If your protocol was created by importing an external dispense data in .CSV format, the protocol will be also linked to the .CSV file, allowing you to reload your dispense data from an updated .CSV file.
To create a protocol:
Design a dispense and assign each reagent to a chip, as normal.

Go to the File menu, point to Protocols, and then select Save.


To save the different protocol name, select Save as from the Protocols option under the File menu.
Note:  If you have not yet saved the dispense list and/or the reagent configuration files, you will be prompted to do so before you can save the protocol.
You have successfully created your protocol. Please note that you can open an existing dispense list and create a protocol from that point of the guide. To load the protocol for future use, follow the steps below.
To load a protocol:
Go to the File menu, point to Protocols, and then select Load.

Select the protocol from the list in the Select Protocol box.

Click OK to load both the hardware setup and the dispense design.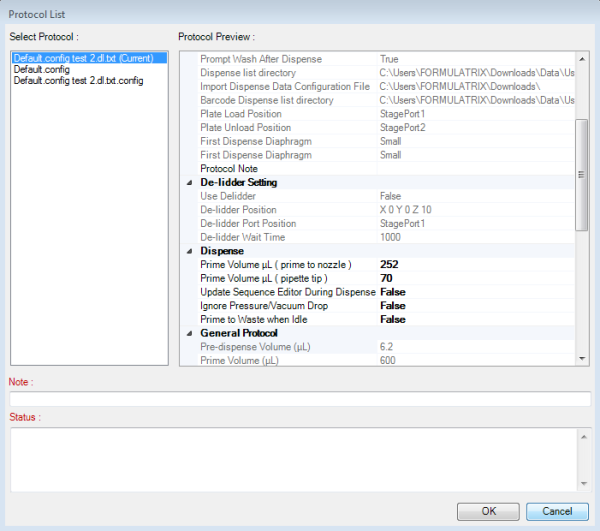 Protocol List Window
To execute a plate dispense with protocol:
After you have loaded your dispense design from a particular protocol, you can now run it with the options below:
Click the Run button

to execute current dispense configurations without viewing the dispense log.
OR
Click the Run With Protocol button

if you want to choose which protocols to use for your dispense, and if you want to be able to see and save the dispense log when the dispense is executed.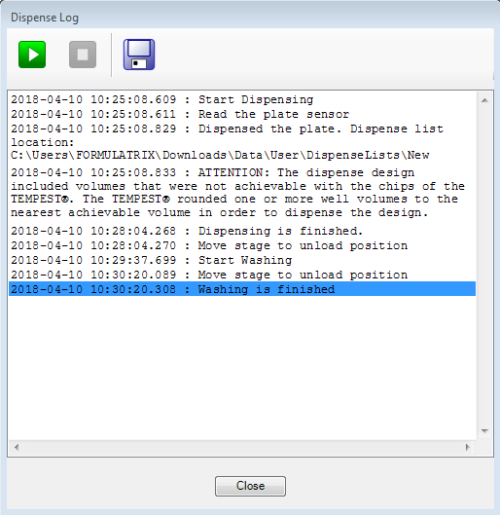 Dispense Log
Related Topics
---
TEC-V311R018