In the case liquid being spilled on top of the chip, the liquid can enter the MANTIS Air Ribbon when the chip is being picked up or dropped off. Liquid can also enter the Air Ribbon if a chip fails catastrophically (diaphragm or valve rupture). If you ever notice liquid droplets in the Air Ribbon, you must purge the liquid to prevent it from entering the solenoid bank and damaging the MANTIS instrument. Follow these instructions to purge liquid from the Air Ribbon.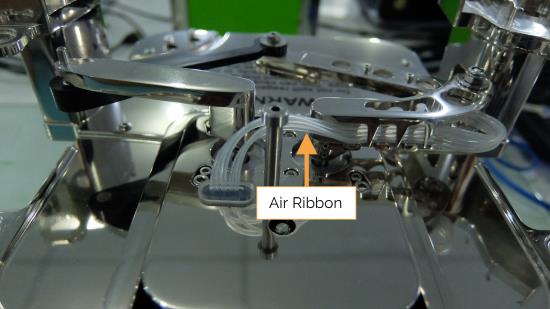 Air Ribbon at the Back of the MANTIS Arms
To purge liquid from the Air Ribbon:
In the Tools menu, select Purging Tool.

Click Start to begin the purging process.

Starting the Purging Process

The default time for the purging process is five minutes. If the liquid is completely gone from the Air Ribbon in less than five minutes, click Stop to end the process.

Stopping the Purging Process

Optional: Repeat steps 1 and 2 if there is still liquid in the Air Ribbon, until it has all been purged.

Click the Cancel or Close button when you are finished, or to abort the process and close the Purging Tool wizard.