You can configure your input source type in various ways.
Clicking the
Input
button

enables you to change the input source type (tube or pipette tip), chip type (Low Volume, High Volume, Low Volume PFE, High Volume PFE, Low Volume 3PFE, High Volume 3PFE, or High Volume Continuous Flow), and configure the prime volume, wash volume, recovery volume, and pre-dispense volume. 
| | |
| --- | --- |
| HV PFE with the Tube Input Source Options | HV with the Pipette Input Source Options |
Continuous Flow Options
Tip: If you are using a reagent with low viscosity, low surface tension, and/or a high possibility of creating foaming, such as water combined with detergent, use Passive mode. With Passive mode MANTIS will be able to prevent air bubbles during recovery, allowing more reagent to return to your source container in a single step. To ensure recovery of all of the reagent using Passive mode, it is recommended to set the Recovery Duration to more than 500 ms.

If you have multiple chips to which you wish to apply the same configuration parameters (like wash volumes or input source type), you do not need to configure each chip position individually. Click the Mass Update Input button

to make changes to multiple chip stations at once.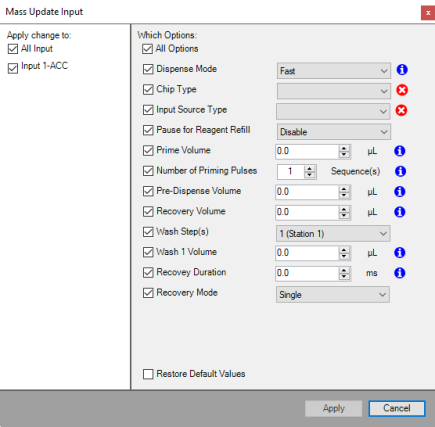 Mass Update Input Options
Note: When you use mass update for RFID chips, MANTIS will automatically identify the chip type and the Chip Type option in the Mass Update Input window will be disabled.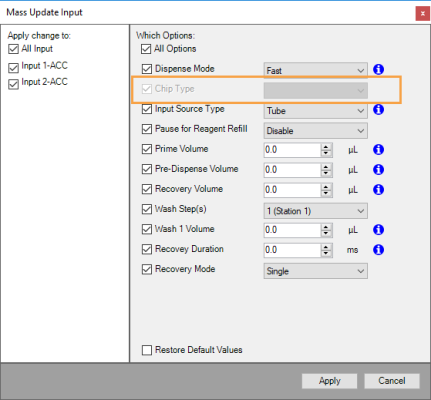 Mass Update Input Window with the Assigned RFID Chips and Disabled Chip Type Option
You can also access, modify, and change the Input configuration through the Configuration All Input Settings button

.
If your MANTIS is equipped with RFID, click the Scan All RFID Chips button

to scan all RFID chips at once. For more information, See MANTIS Radio-Frequency Identification (RFID).