Dispense List Manager
You can now manage all dispense lists stored in the software by accessing the Dispense List Manager from the File menu. The Dispense List Manager provides you with a Home folder that contains default sample dispense lists. Once you have designed your own dispense lists in the software, you can create new categories, modify existing categories, and arrange your dispense lists under the new categories as needed.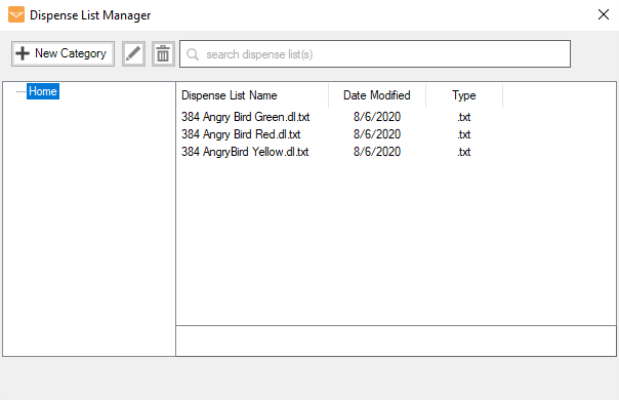 Dispense List Manager Window
The main purpose of this feature is to give you the ability to sort your dispense lists into categories in order to keep them organized. It's the most convenient way to assign dispense lists to different experiments, different users, or share a MANTIS across multiple labs/groups. There are several ways to modify your dispense list categories, including:
Add a new dispense list category.
Rename a category.
Move a dispense list from a selected category to another category.
Search a dispense list in a certain category using the Search field.
Remove an unused category.
For more information, see Modifying Dispense List Category.
Related Topics
---
| | |
| --- | --- |
| | |
| MAOWH-V47R722 | |